Gridiron Capital Adds New Team Members to Enhance Digital Capabilities
September 2023
New Roles Will Strengthen Gridiron's Data Analytics and DTC Marketing Expertise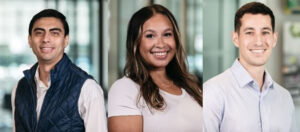 NEW CANAAN, CT, September 27, 2023 – Gridiron Capital, LLC ("Gridiron Capital"), an investment firm focused on partnering with founders, entrepreneurs, and management teams, is pleased to announce the additions of Mauricio Marron as Technology and Data Manager, Tammy Delgado as DTC Growth Senior Associate, and Miles Hindin as DTC Data and Strategic Insights Senior Associate. Gridiron continues to invest in and expand team capabilities to provide broader resources to its portfolio companies. Furthermore, these new roles will generate operational efficiencies and data-driven insights.
Mr. Marron focuses on Gridiron's core technology platforms, continuing to refine key business processes and data flows to drive platform implementation and streamline efficiency. Prior to joining Gridiron, Mauricio was a Digital Specialist at UBS where he led digital and technology initiatives across the organization. Prior to UBS, he was a Vice President of Customer Relationship Management at Robertson Stephens, a wealth management firm. Mauricio received a B.S. in Supply Chain Management and a Minor in Geology from Texas A&M University.
Ms. Delgado partners with Gridiron's investment professionals and portfolio company management teams to develop and implement successful DTC marketing programs. Tammy joins Gridiron from Care/of, a healthcare technology company, where she focused on designing and implementing marketing campaigns using paid channels to drive growth and new customer acquisition. Previously, Tammy worked at Wpromote, overseeing digital strategy for high-growth DTC and retail clients such as SoulCycle, Hint Water, and Rumble Boxing. Tammy received a B.A. in Communications and a Minor in History from Boston College.
Mr. Hindin focuses on data analysis of our portfolio companies in partnership with our investment professionals and portfolio company management teams, providing strategic insights on DTC growth initiatives. Prior to joining Gridiron, Miles was a Business Operations and Strategy Manager at League Apps, a youth sports technology company, spearheading corporate growth initiatives and identifying key market expansion opportunities through business case and financial modeling. Miles began his career at Goldman Sachs as an analyst in the Asset Management division. Miles received a B.S. in Applied Economics & Management from Cornell University.
Tom Burger, Co-Founder and Managing Partner, said, "At Gridiron, we are constantly evaluating opportunities to leverage data to increase productivity internally and across our portfolio partnerships. We believe Mauricio's new role will allow our teams to utilize our technology platforms to their maximum potential, and Tammy and Miles will be essential to driving Gridiron's DTC Digital Accelerator Center of Excellence."
Kevin Jackson, Managing Partner, added, "We are excited to welcome Mauricio, Tammy, and Miles to the Gridiron team. Gridiron remains committed to providing unmatched resources to our management teams as they grow and scale their businesses. Our strategic planning process, combined with our team's unique capabilities and experiences, enables our portfolio companies to create value from day one of our partnership."
About Gridiron Capital
Gridiron Capital is an investment firm focused on partnering with founders, entrepreneurs, and management teams, and creating value by building middle-market companies into industry-leaders in branded consumer, B2B and B2C services, and niche industrial segments in the United States and Canada. We help transform growing companies by winning together through hard work, partnerships grounded in shared values and a unique culture that comes from hands-on experience building and running businesses. As a team led by former operators and entrepreneurs, we know what it takes to run successful businesses on a day-to-day basis. Additional information is available on the firm's website: www.gridironcapital.com.
Contacts
Gridiron Capital, LLC
Thomas A. Burger Jr.
Co-Founder and Managing Partner
tburger@gridironcapital.com