Gridiron Capital's Kallie Hapgood Featured in McGuire Woods Women in PE Profile
June 2019
Women in Private Equity to Know: Kallie Hapgood
The interview below is part of an ongoing effort by McGuireWoods to profile women leaders in private equity.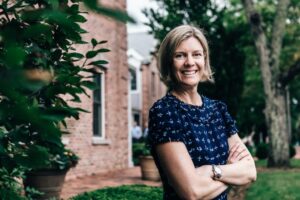 Kallie Hapgood is a managing director at Gridiron Capital , an investment firm based in New Canaan, Conn., that is focused on partnering with founders, entrepreneurs and management teams, and creating value by building middle-market companies into industry leaders.
Hapgood has an extensive background in the private equity (PE) industry, including marketing, new business development and fundraising. Prior to joining Gridiron Capital, she worked with a variety of general partners across geographies and fund types, including buyout, growth and venture capital, credit and distressed debt, mezzanine and fund of funds. Hapgood began her career at Merrill Lynch and is a graduate of Dartmouth College.
Q: What attracted you to PE?
Kallie Hapgood: Early in my career, I was at an asset manager with over 200 product offerings for institutional investors. Although I enjoyed learning about a broad universe of strategies, securities and geographies, I wasn't able to have an in-depth level of exposure to any of them. When I transitioned into PE, I relished the opportunity to dig into the details of individual companies and their products, services, teams, challenges and successes.
PE is one of the few investment management strategies where the manager can effect real change in the underlying portfolio. Joining Gridiron Capital has given me the opportunity to have an in-depth understanding of each portfolio company and be part of the entire journey as Gridiron partners with founders and management teams to grow and transform each business. Understanding how growth is driven and being part of the transformation is a unique opportunity.
Q: Why is it important for more women to pursue careers in PE?
KH: The PE market has evolved and matured considerably over the last 20 years. In order to outperform the mean, managers need to find those elusive inefficiencies in an increasingly efficient market. Managers who simply hire the "typical" PE professionals are going to look and perform like everyone else. Different perspectives, experiences and ways of thinking make a firm more powerful and give that manager the ability to think outside the box and create value in unique and creative ways.
At Gridiron, we work hard to get better every day. Part of how we do that is by interacting with new people and constantly challenging the status quo. Additional diversity of professionals within PE will only enhance the asset class and returns.
Q: What do you think is the biggest challenge facing women entrepreneurs? What advice would you provide to overcome it?
KH: I think female entrepreneurs have a finger on the pulse of new trends and consumer needs. I see many female entrepreneurs with incredible products and services but oftentimes they don't have the robust network needed to pursue more advanced growth strategies. Over the long term, I would encourage female entrepreneurs to help and support one another. Deepening and improving their network would be a rewarding byproduct of that mentality. In the short term, I would suggest picking up the phone and meeting new people every day. Everyone enjoys a warm introduction, but even more important is a great company with multiple opportunities for growth.
I would also stress the importance of finding partners and investors who value what you bring to the table and who you can envision having an enjoyable partnership with over several years. Gridiron has done an outstanding job of partnering with women founders and entrepreneurs, being flexible, understanding and listening and creating an environment that fits their goals and objectives and helps them be successful. Tom Burger, Gridiron's co-founder and managing partner, grew up working in a family business where his grandmother was an entrepreneur and the chief financial officer. Tom's upbringing is an additional reason why Gridiron has always been committed to partnering with women entrepreneurs.
Q: What advice would you provide to a woman-led company interested in securing PE?
KH: If you are looking for a PE partner, make sure that potential partner is bringing more to the table than just capital. Spend as much time with them in person as possible and ask a lot of questions. Have they worked with other female entrepreneurs? If so, call these women and speak to them. If not, call the male chief executive officers and management teams they have worked with previously or currently. Do they understand your industry? Your competitors? What is their strategic plan? Do they plan to make management changes?
Also pay attention to the questions they ask you. Are they asking you about your employees? Are they asking you about your relationships with customers or just financial questions? Make sure your interests are ultimately aligned with your new partner's interests.
Gridiron has successfully partnered with several woman-led and women-founded businesses and helped them scale and grow. If you pick the right partner, your next bite at the apple should be much more rewarding than the first. At Gridiron, we call this "Winning Together."
To contact Kallie, email khapgood@gridironcapital.com