Gridiron Capital Portfolio Company The Service Companies Appoints Brian Coyne as Chief Executive Officer
May 2023
Military Leader and Strategic Operational Expert, Coyne Will Promote Accelerated Growth in an Elevated Role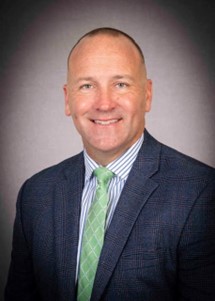 NEW CANAAN, CT, May 24, 2023 – Gridiron Capital, LLC ("Gridiron Capital"), an investment firm focused on partnering with founders, entrepreneurs, and management teams, is pleased to announce that portfolio company, The Service Companies ("TSC"), a premier service provider to the hospitality, gaming, healthcare, education, and corporate catering industries, has named Brian Coyne as Chief Executive Officer. Since joining TSC in August of 2022 as SVP of Special Strategic Projects, Brian Coyne was elevated to COO and is now appointed as CEO. Adept in driving operational best practices, Brian's experience strategically aligns with the company's priorities of helping clients maximize efficiencies, streamline processes, improve health and cleanliness, and manage their most challenging departments.
Brian completed an impressive 20+ year military career where he held multiple high-pressure strategic leadership positions. He most recently served as Commanding Officer of the Second Marine Regiment, a 7,000-person enterprise that conducted complex operations around the globe. Brian is Harvard, United States Naval War College, and United States Merchant Marine Academy educated. Brian's leadership expertise will drive innovation and collaboration across the TSC organization.
Scott Harrison, Senior Managing Director and COO, said "TSC will greatly benefit from Brian's leadership as he continues TSC's focus on delivering best-in-class services to their clients and further building out the partnership base. We have enormous respect for those who have served our country, and are confident in Brian's ability to inspire and lead the team to accomplish ambitious goals."
Tom Burger, Co-Founder and Managing Partner, said "Brian's experience in successfully leading diverse and complex teams on a large scale puts him in a great position to succeed as the CEO of TSC. His leadership and ability to consistently execute at a high level and optimize workflows are foundational to promoting accelerated value creation across the Company."
About Gridiron Capital
Gridiron Capital is an investment firm focused on partnering with founders, entrepreneurs, and management teams and creating value by building middle-market companies into industry-leaders in branded consumer, B2B and B2C services, and niche industrial segments in the United States and Canada. They help transform growing companies by winning together through hard work, partnerships grounded in shared values, and a unique culture that comes from hands-on experience building and running businesses. As a team led by former operators and entrepreneurs, we know what it takes to run successful businesses on a day-to-day basis. Additional information is available on the company's website: www.gridironcapital.com.
About The Service Companies  
The Service Companies is one of the nation's premier providers of managed services, food and beverage staffing, and specialty cleaning services for casinos, hotels, resorts, corporate cafeterias, stadiums, arenas, and events. The Service Companies operates nationally, providing services ranging from turn-key housekeeping and stewarding services to EVS cleaning of public areas, kitchens, windows, and chandeliers to fully trained staffing services. Led by a seasoned executive team with experience driving growth across a number of industries, The Service Companies has an impressive track record serving leading casinos, hotels, and resorts. The Service Companies' model delivers both consistently high levels of service quality and improved performance at the bottom line. Additional information is available on the company's website: www.theservicecompanies.com.
Contacts
Gridiron Capital, LLC
Thomas A. Burger Jr., Co-Founder and Managing Partner
tburger@gridironcapital.com