Gridiron Capital Named A Top Private Equity Firm For Entrepreneurs
July 2019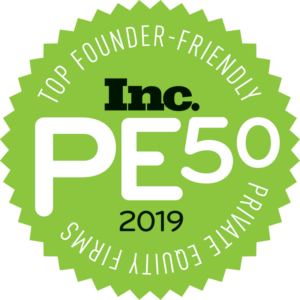 Gridiron Capital, LLC is pleased to announce that the firm has been named to Inc.'s inaugural list of top founder-friendly private equity firms.
Tom Burger, Managing Partner and Co-Founder of Gridiron, commented, "We are honored by Inc. Magazine's recognition. Gridiron is a different kind of investment firm. As former founders, members of our own family businesses, and operating and senior executives we understand how to be true, good, and successful partners. We offer valuable strategic and operating insight, resources, relationships, and an ability to help quickly build a scalable platform for growth. We start with respect for everyone in an organization and understand that a company's people and culture are critical to success.  We seek to partner with founders, entrepreneurs, and management teams who are motivated to build and grow their companies by executing on a shared strategic vision."
The editors at Inc. point out that selling a meaningful stake in your company can be life-altering, which is why they created the founder-friendly list of private equity firms to help guide sellers. Gridiron was named because the firm has a track record of successfully partnering with entrepreneurs.
Jane Allen, Founder of Legility, a Gridiron portfolio company, said, "When we entered into a partnership with Gridiron, it was clear that they were different. They asked about our clients and the relationships with the clients. They asked about our employees. For me, that was a differentiator. Gridiron's values of hard work, commitment, determination, and courage align with our Company's principles – they are partners who listen, push back, and question, but then make the right decision and make it happen."
According to Inc, firms were chosen based on submissions from entrepreneurs whose U.S.-based companies private equity firms either bought or sold after January 1, 2016. Inc. identified firms that have invested in founder-led companies, gathered data on how their portfolio companies have grown, and asked entrepreneurs to discuss their experiences–including what any founder should know about outside investors.